June 15, 2023: ICWA Upheld in U.S. Supreme Court Decision
The U.S. Supreme Court handed down its decision in Haaland v. Brackeen, and in a 7-2 opinion resoundingly affirmed the constitutionality of the Indian Child Welfare Act. Find the Supreme Court decision and other case documents on the Tribal Supreme Court Project website.
November 9, 2022: Oral argument before the U.S. Supreme Court
August 19, 2022: Outpouring of support for the Indian Child Welfare Act
In an outpouring of support, 497 Tribal Nations, 62 Native organizations, 23 states and DC, 87 congresspeople, and 27 child welfare and adoption organizations, and many others signed on to 21 briefs submitted to the U.S. Supreme Court in favor of upholding ICWA. This large, bipartisan coalition of tribal leaders, policymakers, and organizations understand that the far-reaching consequences of challenging ICWA's constitutionality in Haaland v. Brackeen will be felt for generations.
Between Wednesday, August 17, and Friday, August 19, the following amicus briefs were filed in support of the Indian Child Welfare Act and the tribal and federal defendants in Brackeen v. Haaland (No. 21-376):
Briefs Submitted by Governments
Tribal Nations and Tribal and Native Organizations Brief: 497 Tribes and 62 tribal and Native organizations joined this brief in a show of unity. The brief focuses on the history of federal and state involvement in the lives of tribal children, the importance of children in tribal cultures, the political relationship between Tribes and the federal government, and the potential harms that could flow from this case for potentially millions of tribal members.
Bipartisan Members of Congress Brief: A bipartisan coalition of 87 Members of Congress signed this brief focusing on all four of the primary arguments in the case and explaining that passing ICWA was well within Congress's constitutional authority.
Bipartisan States Brief: 23 states and the District of Columbia signed on to this brief, which highlights how ICWA is a critical tool for protecting Indian children, allows and encourages tribal-state collaboration in the area of child welfare, and does not commandeer state governments.
Los Angeles County Brief: Brief from counsel for the county with the largest child welfare system in the country, which is also the county that is home to the largest American Indian and Alaska Native population in the United States. This brief focuses on the history of Indian relocation and ICWA's importance to all Tribes, not just those with reservation land.
Briefs from Experts in Child Welfare, Children's Rights, and the Rights of Families
Child Welfare and Adoption Organizations Brief: This brief was signed by Casey Family Programs and 26 of the nation's other most well-respected child welfare, adoption, foster care, and social work organizations. This brief cites specific research and discusses how ICWA is a model for child welfare best practices.
Children's Rights Organizations Brief: This brief is from the National Association of Counsel for Children and 30 other children's rights organizations who provide legal representation or policy advocacy on behalf of children in foster care. This brief explores the constitutional rights of families, addresses how ICWA supports the best interests of children in state proceedings, and provides critical information to state courts.
Family Defense Providers Brief: This brief is from organizations that represent parents in dependency cases in nine states and discusses the constitutional rights afforded to parents and children, how those rights intersect with the child welfare system, and the importance of ICWA in establishing procedures that ensure child safety and protect family integrity.
American Bar Association Brief: This brief directly challenges the contention that child welfare is the sole province of the states, describes how child welfare has long been governed by a combination of state and federal law, and explains how federal law routinely imposes substantive and procedural requirements on state child welfare agencies and state courts.
Briefs from Medical Experts
Pediatricians and Doctors Brief: This brief from the American Academy of Pediatrics and the American Medical Association describes the federal and state policies designed to destroy tribal families and extended tribal networks, how those policies and have resulted in historical trauma that affects the health of Native children today, and the manner in which ICWA provides for the preservation of family and community connections.
Psychologists Brief: Brief from the American Psychological Association, the Society of Indian Psychologists, and the Texas, Indiana, Louisiana Psychological Associations detailing the research-supported benefits for Native children when they are parented by Native families.
Briefs From Individuals Who Have Lived Experiences that Confirm ICWA's Importance
Former Foster Children Brief: This brief is from tribal members who were involved with the child welfare system as youth. The brief shares with the Court their lived experiences in foster care to dispel misconceptions about Indian children's experiences with ICWA.
Bradshaw Brief: This brief provides important case background from the grandmother who adopted her granddaughter, P.S., the child who was the subject of the claims of the Cliffords (one of the foster family plaintiffs challenging ICWA in this case). The brief shows that the narratives advanced by the Cliffords and accepted by the federal appellate court were not truthful, and explains why the Cliffords and other two foster family plaintiffs in this case lack standing.
Non-Native Adoptive Parents Brief: Though this case is not about voluntary adoptions, this brief addresses how ICWA works in voluntary adoptions and provides important context about how ICWA fosters positive outcomes in adoption.
Legal and Historical Scholar Briefs
Indian Law Professors Brief: This brief from 30 leading Indian law scholars focuses on the foundations of the federal-tribal relationship and the exclusive power of Congress to legislate on behalf of Indians as a political class.
Administrative and Constitutional Law Professors Brief: This brief from some of the nation's most prominent administrative and constitutional law scholars addresses Congress's power to enact statutes that implement treaties with Native Nations, regulate state actors, and incorporate the law of other sovereigns into its legislation.
Professor Ablavsky Brief: This brief from a professor who teaches both law and history at Stanford discusses the original constitutional understandings of the federal power over Indian affairs, including issues related to Indian children.
Constitutional Accountability Center Brief: This is a brief that takes an originalist perspective in explaining that there are no anti-commandeering concerns when Congress requires state officials to engage in recordkeeping and share information with the federal government, and likens provisions of ICWA to the Servicemembers Civil Relief Act.
Historians Brief: This brief from the American Historical Association and the Organization of American Historians describes the federal government's history of exercising authority over Native children and families and the role of state child welfare agencies in accelerating the removal of Native children from their communities.
Other Groups and Individuals With Unique Legal and Professional Perspectives
National Indigenous Women's Resource Center Brief: This brief from NIWRC, two individuals, and 88 victim advocacy, legal services, and religious organizations details the manner in which any holding that finds Indian to be a racial, and not a political, classification would impede the ability of Tribes to protect their member women and children from violence.
ACLU Brief: This brief argues that ICWA's provisions involve political, not racial, classifications and that even if the Court were to apply a heighted level of scrutiny, ICWA would still be constitutional.
Senator Abourezk Brief: This brief from the former Senator from South Dakota and primary sponsor of ICWA details relevant legislative history.
---
October 2021: Haaland v. Brackeen Petition for Review at the US Supreme Court
As the Court considered whether to hear the case, an unprecedentedly large group of child welfare and tribal sovereignty protectors united in defense of ICWA. On Oct. 8, the Supreme Court received three amicus briefs urging the Court to protect ICWA, filed by: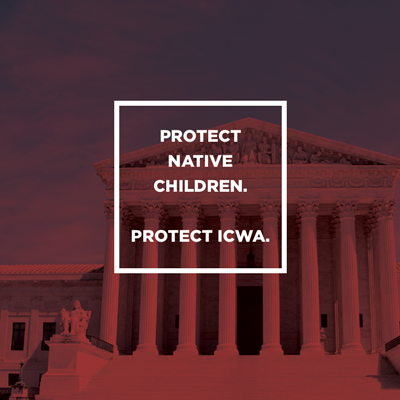 180 tribal nations
35 Native organizations
25 states and the District of Columbia
Casey Family Programs
10 child welfare and adoption organizations
The amicus briefs provide vital context to two of the cases the Court may review: the petition from tribal intervenors and the petition from the U.S. federal government. Both petitions ask the Supreme Court to review the Fifth Circuit Court of Appeals Brackeen v. Haaland decision, a case challenging the constitutionality of ICWA.
The Tribal amicus brief focuses on the Indian child welfare crisis that led Congress to enact ICWA. The states' brief describes how ICWA has become a critical tool for protecting Indian children and fostering state-tribal collaboration. The Casey Family Programs brief highlights how ICWA exemplifies child welfare best practices and leads to better outcomes for Indian children. By February 2022, the Supreme Court will decide whether to review the lower court's ruling.
April 6, 2021: Brackeen v. Haaland Fifth Circuit Decision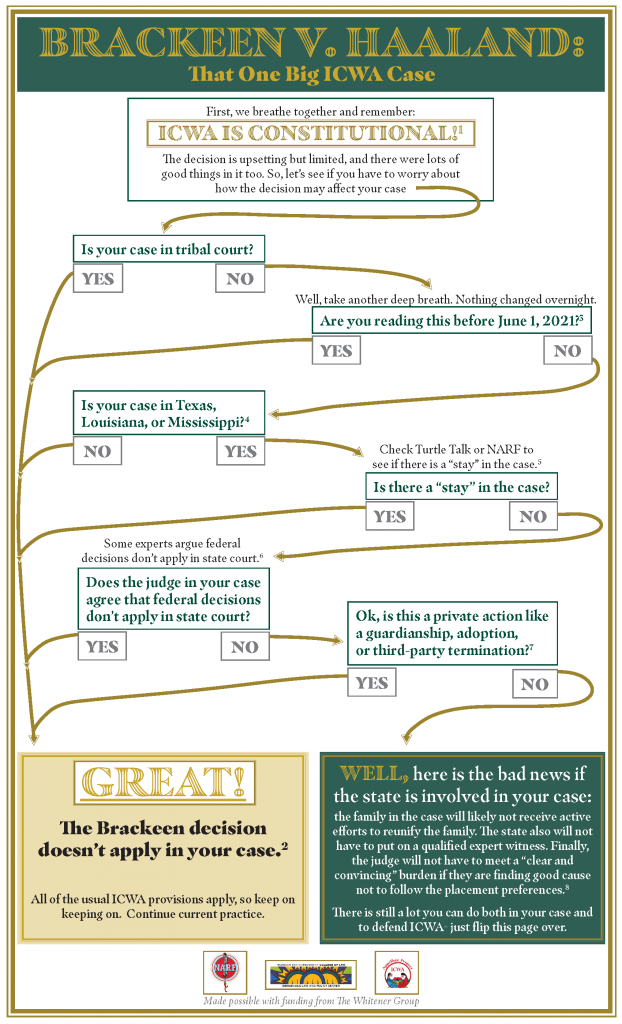 On April 6, 2021, the United States Fifth Circuit Court of Appeals published its en banc decision in Brackeen v. Haaland, a case challenging the constitutionality of the Indian Child Welfare Act (ICWA). While the Protect ICWA Campaign is pleased to see that the court recognized that ICWA generally is within Congress's authority, we are deeply concerned that aspects of this opinion misunderstand the unique relationship between the United States and tribal nations.  The opinion is 325 pages long and incredibly complexity. Read the full decision here: https://narf.org/nill/documents/20210406brackeen-opinion5th.pdf.
To see how the Brackeen 5th Circuit decision may affect your ongoing ICWA case, download the Brackeen v. Haaland Decision Tree (also at right).
Read more about the case on the Brackeen v. Haaland web page on the Native American Rights Fund website.